Weddings with Jimmy and the Parrots
Jimmy, Big Daddy, Jimmy Jr., Mark, and Fred with Dominic and Kate.  Congratulations again!  
Jimmy Jr., Fred, Mark, Jimmy, and Big Daddy with bride Kara.  Congratulations again, Kara and Chris!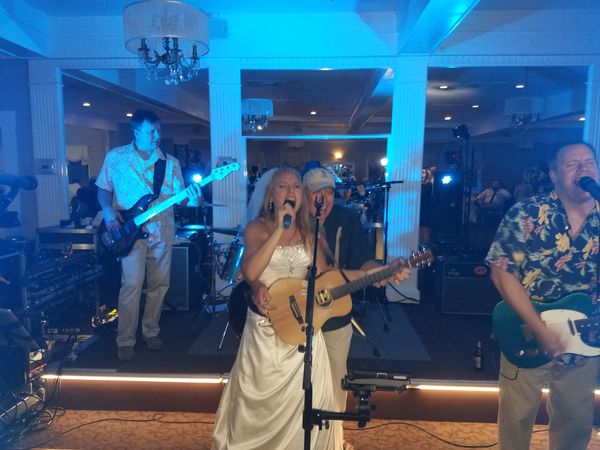 If you want your wedding reception to be fun and remembered for years by your family and friends, we hope you will consider Jimmy and the Parrots!  The band has performed at over 20 weddings over the years, and each and every one has been very special for us.  We love getting to know our brides, grooms, and their guests!  We can be as casual or as formal as you like (short of wearing tuxedos!) to make your wedding what YOU want it to be!  Read some of our wedding testimonials, and contact us to see if your date is available.  We'd love to work with you on a fun, memorable, and successful event!
TESTIMONIALS


"I want to thank you for all your help and hard work that went into planning the music and everything, it all went so well! Also, please tell all the band members thank you too! They were so much fun and I loved how they interacted with us and got the crowd going. Everyone said how awesome they were and wanted to know how we found them. We can't wait to see them playing again this summer!
Thanks again, 
Nicole and Ed" (Bride and Groom) - 2017

"Jimmy played my daughter Nicole's wedding Saturday night and they were beyond amazing! They really took into account what she wanted, played all her favorite songs, got the crowd going and dancing from the very first song, and even included the guests into the show. My daughter Nicole 'played' Jimmy's guitar while singing "Blue Eyed Girl" I couldn't imagine her wedding without them and would recommend them to anyone!" - Greg (Father of the Bride) - 2017

"We had a wonderful time at the reception.  The band was awesome as usual!   It was the perfect party to complete a fairytale wedding." - Melissa  (Mother of the Bride) - 2015


"I just wanted to send you a message about Friday.  It.  Was.  Amazing.  The band was absolutely amazing!!!  Between the warm hugs when I saw
you all on the balcony to keeping the reception at full blast the entire time...I couldn't have wished for anything more.  The reason I wanted Jimmy and the Parrots as the band for my reception is they know how to get the party going and keep it that way.  Our wedding guests were absolutely blown away by them.  They were so much fun!!!! I don't think I'll ever be able to thank you and the guys enough for making our reception one that is still being talked about by our guests and that was talked about all Saturday morning by the hotel staff.  We actually had one of the waitresses tell us she was scheduled for our reception AND our breakfast the next morning so she was told to go home early.  She didn't!!  She wanted to stay and listen to the band!  Incredible.  The band was incredible, dealing with you the past year has been incredible.

We won't ever be able to thank you and the band enough.

Can't wait to see you guys perform, hopefully, soon!" - Liz and Tim (Bride and Groom) - 2014


"Thanks again for a wonderful day!! You guys were so much fun, it really made the whole wedding complete!  And tell Jimmy a million thank yous for learning that song and keeping it a secret!  Jay's reaction was priceless!" - Haley (Bride) - 2014

 
"Thank you guys for playing at our wedding everyone loved you guys! It was great building a relationship with you guys!  We will definitely see you before the end of the summer! As of right now my family (all the bag boys that were singing on stage with jimmy for son of a son) will be taking their boats out for your show on Aug 22 in LBI! We will be in touch and let you know when we will be at a show!
Thank you again you guys made our wedding amazing! - Kim and Bill (Bride and Groom) - 2013
"We had so much fun and everyone I have spoken to can't say enough great things about the band.  Thank you for all of your help and coordination and please thank the band for me!  I don't think anyone stopped smiling and laughing the whole night. Thank you again!  - Danielle (Bride) - 2013
"

We had a GREAT time.  It was so much fun.  Jimmy, the Parrots, and you and Jimmy's wife were so warm and friendly.  I feel like I've known you for a long time.  We really enjoyed having all of you.  I appreciate the fact Jimmy included the children at the party.  They felt very special.  As you can see many of them are the gymnasts that Danielle coaches.  She loves them all very much." - Carolsue (Mother of the Bride) - 2013